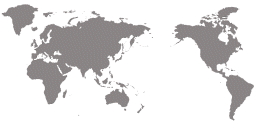 Grocers Supply International (GSI) ships nearly 70,000 different food and household items to customers on every continent. We serve not only commercial customers, but U.S. embassies and oil operations worldwide as well.
Our huge volume of export trade-plus the purchasing volume of our parent company, The Grocers Supply Co, Inc. give GSI tremendous wholesale buying power, so our prices are often the lowest to be found in the U.S. What's more, we operate our own warehouse facilities, more than two million square feet of space, and can therefore take advantage of one-shot wholesale specials from manufactuers, which reduce the cost to our export customers further.
For more than 35 years we've been handling all types of orders for large and small customers worldwide. We specialize in shipping container loads, as well as smaller orders to customers whose size or storage restrictions won't accommodate container-size shipments.
Only by satisfying the customers year after year have we grown to become one of America's leading export grocers. We want to be your grocer. We're ready to go to work for you immediately with the most prompt, experienced, cost-saving service of its kind in the world. Whether you need sausage in Stockholm, or aspirin in Algiers, contact us today. We'll take care of everything for you.