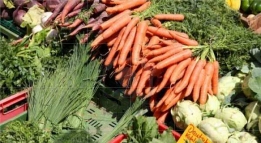 GS Produce procures and distributes fresh produce and related items to food retailers located in selected Texas and Louisiana market areas.

At GS Produce product quality is number one. We have built strong business relationships with premium quality growers and suppliers across all of the major domestic and international growing regions. GS Produce also supports a strong locally grown Texas program. Through the year we are right on season with a full complement of fresh produce.

GS Produce is a dedicated partner, offering everything a retail merchant requires in order to operate a profitable and consumer relevant produce department.
A one stop source for over 1200 varieties of fresh produce
An aggressive weekly promotional offering
Expert retail merchandising support
A complete tool box of core produce programs
National brand label banana ripening program, to your color specification
A preferred private label potato repack program